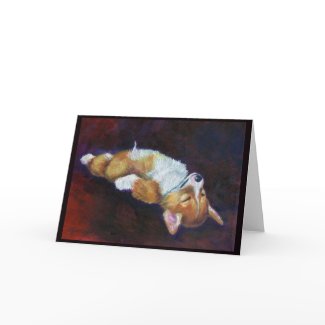 Pembroke Welsh Corgi Greeting Cards
by
ladyartista
Browse more
Pembroke Cards
Lyn does a great job of capturing the magic of one of the corgi's most common dream poses. The texture of the original art canvas is visible in this card, making it more attractive to collectors.
This is a frameable art card. It would make a lovely framed keepsake, with the card giver's thoughts for the recipient secretly sealed inside. I tested it in both in 8×10 (without mat) and 11×14 (with mat) frames. The artist's name is appropriately displayed in the lower left hand corner.
Overall product rating – Five Stars
Artwork rating – Five Stars
Print quality rating – Five Stars
Packaging rating – Five Stars
Delivery rating – Five Stars
My Personal Art Critique:
As the artist is licensed to make changes in creating derivatives or adaptations of their original artwork, I think it would be to the artist's benefit to revise the artist credits on the back of the greeting card to include references to her website address and social media channels. Â The border around the artwork should be deleted with the background color bleeding to the edge to accommodate all types of frames and matting and print feed variations that may occur in printing.