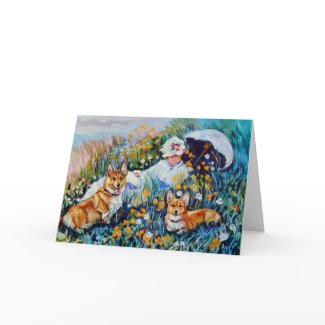 Pembroke Welsh Corgi Greeting Card
by
ladyartista
Create cards
on zazzle.
Review Title: In The Field ~ Corgi Art by Lyn Hamer Cook
Review: Another perfect "all occasion" greeting card for corgi lovers. Also a frameable art card that can be turned into a framed keepsake suitable for public viewing, with the card giver's thoughts for the recipient secretly sealed inside. I tested it in both in 8×10 (without mat) and 11×14 (with mat) frames.
Overall product rating – Five Stars
Artwork rating – Five Stars
Print quality rating – Five Stars
Packaging rating – Five Stars
Delivery rating – Five Stars
Any artist would be pleased with the printing quality of this card. Sharp color and excellent paper quality.
My Personal Art Critique:
Sadly, while the artist credits, including website address, are printed on the back of the card, the artwork is unsigned or the signature is placed outside the printing area.