<![CDATA[This morning I submitted my first review of product purchases I've made from Zazzle.com. Much to my surprise, upon completing the review I received a notice that it "may be displayed" at a later date. As a result, I've decided to post my reviews here as I submit them so I wouldn't forget about them and so I could let the artist know I had taken time to support their efforts. Following is my review of one of my greeting card purchases from Lady Artista's Corgi Magic Zazzle Shop.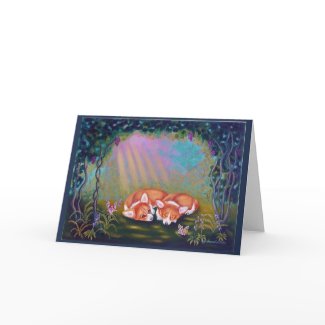 Pembroke Welsh Corgi Cards
by
ladyartista
Make your own card
at zazzle.com.
Review Title: Corgi Glen Fairies ~ Corgi Art by Lyn Hamer Cook Review: Corgi Glen Fairies is the perfect "all occasion" greeting card for corgi lovers. Realistic corgi expressions say so much in so many ways. This artist captures the true essence of what corgis are about in all her art renderings. This is a frameable art card. It would make a lovely framed keepsake to hang for everyone to view, with the card giver's thoughts for the recipient secretly sealed inside. I tested it in both in 8×10 (without mat) and 11×14 (with mat) frames. The artist's name is appropriately displayed in the lower right hand corner.
Overall product rating – Five Stars
Artwork rating – Five Stars
Print quality rating – Five Stars
Packaging rating – Five Stars
Delivery rating – Five Stars
My Personal Art Critique: As the artist is licensed to make changes in creating derivatives or adaptations of their original artwork, I think it would be to the artist's benefit to revise the artist credits on the back of the greeting card to include references to her website address, Twitter ID, and Facebook page.  The "line" frame around the artwork should be deleted with the background color bleeding to the edge to accommodate all types of frames and matting and print feed variations that may occur in printing. I also believe that if  Zazzle® were to produce its logo smaller than the artist credits, the result would be more representative of fine art printers.]]>